On this page, you will find the latest articles from members and supporters of Interfaith Wolverhampton.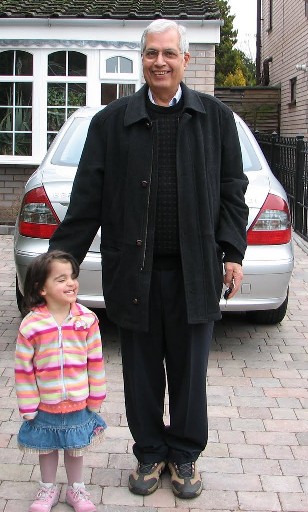 The funeral of our friend Sehdev Bismal on Monday July 15th was a wonderful and deeply moving event. Speakers included Anuraj Bismal, Kaie Bismal (pictured right with Sehdev), Babita and Vineet Bismal, and Opinderjit Takhar, Bishop Clive, Ruth Wilson, Erik Pearse, and Barbara Gwinnett.
Erik Pearse spoke as follows:
"I came to know Sehdev through Interfaith. He first became involved in what was then called the Wolverhampton Inter-Faith Group in the late '80's, following a series of meetings between Interfaith and the LEA's Multi-cultural Education Service where Sehdev worked alongside Harun Rashid, a founder member of Interfaith and still currently its vice-President.
Sehdev soon became a leading and key member of Interfaith, holding in succession the positions of vice-chair, chair for 6 years, President and latterly vice-President.
I had the privilege of working closely alongside him when he was chair. He used to invite the Officers to his home for the monthly meetings we held and we were regaled with wonderful Indian dishes cooked by his delightful wife Rajinder. The two of them made us so welcome – those occasions, apart from being very fruitful and productive from a work point of view, were among the highlights of the month. When Rajinder sadly passed away, Sehdev nevertheless continued regularly to extend his hospitality to us and I learned, to my surprise I must shamefully confess, what an excellent cook he was.
Sehdev had a great vocation as a writer, as any of you who have read his two books – Dream Interrupted and Broken Hearts – will readily acknowledge. For ten years, until last year, he edited the quarterly Interfaith newsletter, a task for which he was admirably qualified. He undertook it with his customary professionalism, dedication, thoughtfulness and commitment and the collection will remain a lasting memorial of what Interfaith achieved during those years. This will no doubt be complemented by his very well-written and researched booklet 'Building Bridges not walls' to commemorate Interfaith Wolverhampton's 40th anniversary in 2014.
Sehdev was more than just a colleague; he was a real and gracious friend. I treasured the many occasions on which I visited him and was warmly received and the discussions we held on literature and other matters; he was very wise and his judgement was so very sound.
I extend my profound condolences to his children and grandchildren and also to Harbhaja, his very devoted sister-in-law. I will greatly miss his friendship but have no doubt that he is resting in peace, welcomed, in my Christian understanding, by God in heaven".
---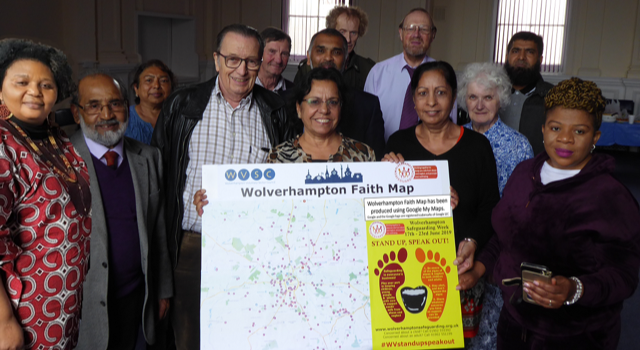 More than 250 faith groups are featured on a new online faith map of Wolverhampton, at bit.ly/wtonfaithmap .
Click HERE to read the full Press Release.
---
A message from our Chair, Mrs Parveen Brigue
Interfaith Wolverhampton utterly condemns the atrocity in Sri Lanka
Atrocities such as the Easter Sunday massacre of innocent people and children in Sri Lanka represent yet another black spot on humanity. Interfaith Wolverhampton denounce this sickening act carried out by mindless individuals who believe that their actions are the will of God. There is real evil behind each and every attack which manifests itself in the minds of those who coerce others into carrying out their will. They distort their faith to satisfy their perverted ideologies.
We at Interfaith in Wolverhampton have a long tradition of bringing people of all faiths and non-together to create understanding, tolerance and respect. This represents the will of the British people and also the people of Sri Lanka and every other decent minded nation on earth.
Those murderers who carried out the attack are most definitely not martyrs. They creep about in the shadows planning their diabolical acts of terrorism. Anyone who just happens to get in their way becomes a victim. It matters not who they are, Christian, Muslim, any other faith, people of no faith and worst of all poor dear sweet little children.
We join our voice with others in the outright condemnation of this latest act of genocide. We call on all people of faith to attend their place of worship to pray for deliverance from the evil in our midst.
A peaceful act of solidarity took place on Wednesday 1st May 2019 on the piazza in front of the Civic Centre.
Parveen Brigue
Chair of Interfaith Wolverhampton
---
In November we held the Interfaith Wolverhampton Mental Health Conference,
with the theme of 'Perceptions of Mental Health from Different Faiths'.
Click HERE to see the full Photo Album and Report, with Videos.
---


Revd. Rachel Parkinson has written an article
about the October Interfaith Brexit Event.
Click HERE to read it and see more photos.




---
At the Interfaith Wolverhampton Bring & Share lunch on Tuesday October 16th, Councillor Asha Mattu was presented with a bouquet of flowers in thanks for the work done by her and her late husband, Mayor Elias Mattu, in raising funds for Interfaith Wolverhampton.
---
On Wednesday September 19th, the Interfaith Wolverhampton AGM was held at the Guru Nanak Sikh Gurdwara, Well Lane, Wednesfield.
---
On Thursday May 3rd, Interfaith Wolverhampton received a donation of £200 from ASDA Wolverhampton as part of their "Green Token" scheme.
Lorraine (Asda Manager), Mike from the Interfaith Office, and our Chairperson Parveen Brigue.
---
On Saturday April 21st, West Park Primary School performed "Wolverhampton Welcomes The World: Many Rivers To Cross". West Park Primary School, 'the Class of 68', the University of Wolverhampton, and 'Stand up to Racism' invited everyone to a celebration of solidarity, unity and multiculturalism. Click HERE for an article in The Observer. Click HERE for reviews and more articles.
---
Ten Parents with their Children, from different faiths and cultures, were sponsored to redecorate Coven Lodge Community Hall,
off the Cannock Road. The sponsorship raised £721 for Interfaith Wolverhampton and also created a very satisfied customer
(Ann Guest, MBE) at the Coven Lodge Centre.
All of the materials needed were kindly donated by S. J. Dixon & Son Ltd., of Cleveland Road, WV2 1BX.
---
Imagining the Divine
On January 5th, Erik Pearse led a group of thirteen Inter-Faith folk on a trip to Oxford, to see the exhibition, Imagining the Divine, Art and the Rise of World Religions at the Ashmolean Museum.
The central idea of the exhibition is that although images of the divine in five of the world's major religions seem so distinctive and different from each other now, in the first century, when ideas were being formed, there was much more similarity between them.
The exhibition shows how artists and craftspeople addressed the difficulties of how to portray something that cannot be seen. Artworks and artefacts from India to Ireland from Buddhism, Christianity, Hinduism, Islam and Judaism were exhibited alongside maps illustrating how interconnected and how many opportunities there were for the meeting and exchange of ideas in the ancient world.
We were able to see how images familiar to us today have developed – our image of Christ as a bearded white man with flowing hair has evolved over time, early depictions show Christ as a youth, owing much to Roman depictions of divinities. Our image of Buddha as a well-rounded, seated figure has likewise evolved, early Buddhists would have been more familiar with just a hand or footprint of the Buddha.
The exhibition was a fascinating collection of statues, coins, ritual objects and early books. Almost the first thing a visitor sees is the Hinton floor mosaic showing a youthful Christ surrounded by domestic symbols and alongside the Greek monster-slaying hero Bellerophon. As with many of the exhibits, the mosaic gave us a moment to stop and think. There were many other highlights – fine early Qur'ans hand-lettered in gold on blue pages; the Jewish tombstone which a man called Pardos had made for his ten-year-old daughter, Sabina; the elegant drawings of the ten avatars of Vishnu, which stayed in the mind long after we left the exhibition. As one of those who queued outside Birmingham Art Gallery to see the Staffordshire Hoard when it was first discovered, it was interesting to see the folded gold cross from the Hoard on display with early gospels and coins.
There was much to reflect upon about this exhibition, not least to wonder how we imagine the divine.
After the exhibition, there was still plenty of time for us to see more of Oxford – Erik arranged a trip to Worcester College, his old college (of especial interest to Morse fans) and there was chance to visit the Church of St Mary the Virgin. This church was adopted as the University church at least as early as 1252. It has witnessed so much of the unfolding of the history of the Church of England. It was sobering to see the memorial tablet to the martyrs both protestant and catholic of the Reformation. A good reminder of the importance of dialogue and understanding between adherents of religious convictions, and to value occasions like these. As ever, there was much pleasure in having the time to talk to old friends and make new ones, to share ideas, stories and fellowship.
Thanks to Erik for organising such a good day and to David Belcher who guided us so expertly through Oxford.
Janusz Sochacki
[ Imagining the Divine was at the Ashmolean Museum until February 18th, 2018 ]
---
Organisations in Wolverhampton have signed a Faith Covenant to improve collaborative working between
the statutory and faith sectors in the City, and celebrate the latter's contribution to the local community.
The Faith Covenant was officially launched at an event on Tuesday December 12th, when
representatives from the council, InterFaith Wolverhampton, Wolverhampton Voluntary
Sector Council and other organisations formally signed a declaration of support.

The Covenant is a formal commitment between faith communities, statutory bodies such as the City of Wolverhampton Council and West Midlands Police, and key strategic partnerships like the Safer Wolverhampton Partnership, Wolverhampton Health and Wellbeing Board and the Wolverhampton Safeguarding Boards, to a set of principles that promote open, practical working on all levels.
It also formally recognises the immense contribution made by both the faith and non faith communities to the City of Wolverhampton, and reaffirms the commitment to work with the faith sector here.
Click HERE to read the text of the Covenant.
Click HERE to read the Wolverhampton City Council
website article about the Covenant.
Click HERE to read the background to the signing of the Wolverhampton Faith Covenant.

Parveen Brigue signing the Covenant on behalf of Interfaith Wolverhampton
---
Des Pearce, accompanied by Erik Pearse, successfully completed his 18-mile sponsored walk to Bratch Locks
and back on December 9th 2017, in a little under 5 hours, raising just over £900 for Interfaith Wolverhampton.
---
On Saturday October 14th 2017, we were delighted to welcome several founder members to be present at the official presentation of the Queen's Award for Voluntary Service to Interfaith Wolverhampton - "The MBE for volunteer groups".
Deputy Lord Lieutenant Clive Stone DL, Chairperson Parveen Brique, Former Secretary Erik Pearse,
and West Midlands Mayor Andy Street

Click HERE to read the article on the local Express and Star newspaper website.
Former Interfaith Secretary Erik Pearse rounded off the proceedings with the following speech -
This prestigious QAVS award is the fruit of over 42 years work sparked off by concerned Wulfrunians' response to Enoch Powell's, then MP for W'ton SW, 'Rivers of Blood' speech in 1968. Since then, Interfaith's constant vision has been to ward off the Rivers of Blood which Enoch Powell imagined and turn them into rivers of clear water or, to adopt the title of our vice-President Sehdev Bismal's highly evocative history of IFW, to build Bridges not Walls and to be, in a phrase coined by Clive Stone who is representing HM the Queen here tonight, the Conscience of Wolverhampton. There is no doubt that IFW has played a key role in moulding our City to be a relatively peaceful, exciting and happy place to live in, because of, and not in spite of, its multiplicity of faiths, races and cultures. In a way, we are privileged to have the world on our doorstep. Interfaith helps us to realise that it is a privilege, not a threat.
There have been several key individuals, faithful to the original vision to build a cohesive society, in our development over the years – many of these will have been awarded a medal tonight. I shall only single out two of these pioneers – The first is Harun Rashid who has been at the forefront of our activities throughout this time as a Founder Member, President, vice-President and Chair and still a Board member today. These titles would be meaningless if Harun had not been deeply engaged, frequently behind the scenes, in personally developing the vision and forwarding and widening the agenda of Interfaith, notably in his pioneering work as a senior Council Official. The Doctorate he received in 2012 from Wolverhampton University for his work in this field was amply merited.
The second person who cannot be forgotten on an occasion such as this is, of course, Ivy Gutridge who provided the guidance and inspiration of Interfaith for well over half its span of years. Nobody who knew her can forget the extraordinary warmth of her personality which so forcefully drove Interfaith in Wolverhampton (and way beyond in her role as vice-Chair of the national Interfaith Network and representative of the World Congress of Faiths). Her spirit is most definitely here with us tonight.
There is one other group of people I want to single out – they are the usually forgotten, self-effacing, behind-the-scenes people without whom nothing would effectively happen. You will of course have guessed that I am referring to our partners, wives or husbands. Personally I know that without my wife Anne's constant and devoted, albeit sometimes exasperated, support, my life would have been a total mess.
I have been told to keep this short so will not dwell on the many achievements of IFW over the past 42 years and more. Most of you will already be familiar with them. If not, I warmly commend you to take, or if there are none left, order, a copy of Sehdev Bismal's Building Bridges not Walls. They are free but you will I am sure wish to make a large donation for them in the customary donations bucket.
In relation to our past achievements, enough to say that we must have done some things right to merit
• being selected as one of the Mayor's charities for several years in a row,
• drawing Prince Charles and his wife to Wolverhampton to celebrate our 40th anniversary and
• being presented with the prestigious Queen's Award tonight.
But what of the future?
I am confident that we will go from strength to strength.
Interfaith is well led. Parveen Brigue has abundantly shown her extraordinarily energetic commitment to Interfaith over the past year since she took over as Chair. No doubt she has been inspired by her father, who was one of the founding members of Interfaith. She is assisted by a group of committed Officers, including a new Secretary, Chris Collins, the Minister at Darlington Street Methodist Church from whom we rent our office, and a new Treasurer, Arshang Jahedi, thanks to whose wizardry and time we have a completely new computer system. We are also blessed with 2 part-time staff members – Mike and Devi – who have ceaselessly shown their commitment – way beyond their terms of employment - over the past few years.
New initiatives to engage young people in our work on their own terms, through the social media, are at last beginning to take shape. If they are successful they will bring a whole new dimension to the interfaith movement in Wolverhampton, complementing the sterling work which we already do with schools.
I hope we will continue to develop our activities on two fronts – the practical and the spiritual.
On the practical side, by acting together in confronting the many issues which face us today – racism and bigotry, homelessness, slavery and lack of Sanctuary, climate change, arms sales – there are so many issues on which we need to work together more in our united quest for a more just and peaceful society – by acting together, by expressing time and again the positive values for which we stand, by further developing partnerships with key statutory and voluntary organisations in Wolverhampton, we become more united, more understanding, more respectful of our different traditions.
But if our activity is not nurtured by our spiritual development, it will fall to ashes – we have learned so much from each others' faith traditions over the past four decades – spirituality – our spirit's quest for the greater good - unites us in a profound way and we need to continue to explore this at ever deeper levels – it will give us the strength and resourcefulness to act purposefully.
Before I finish on this special presentation evening, a special thank you to Dr Satya Sharma, our Patron, without whose quiet but persistent pressure we might never have considered applying for this Award. Also to Clive Stone who gave us such contagiously enthusiastic support and help in refining our application the second time round to enable it to become successful. Thank you again to the Royal School for allowing us to host this event in this prestigious venue. Nor should we forget to thank our Chair, Parveen Brigue, for almost single-handedly organising tonight's event.
If I were asked to encapsulate my vision of what Interfaith stands for, I would be brought back to Ivy Gutridge and her warm ever-welcoming hug. Many of you may not be 'huggy' people but I'm sure none of you could have resisted a hug from Ivy when you walked into her busy office. Her total availability the moment one entered the office and the hug by which she expressed this made it so clear that the most important thing was not paper, or power, or prestige, but people. May that continue to be the case.
Erik Pearse 13.10.17
The Bishop of Lichfield, the Right Revd Dr Michael Ipgrave, said of the award: "I am delighted that Interfaith Wolverhampton has received the Queen's Voluntary Service Award. It is a tremendous honour that recognises the hard work of many people of faith for over 40 years in promoting unity and understanding. It is crucial that faith communities, including churches, work in partnership as we strive to transform our communities together."