Sikh Centres:
[ Guru Nanak Gurdwara ] [ Namdhari Sikh Gurdwara ] [ Nanaksar Thath Ishar Darbar ] [ Ramgarhia Sikh Community ]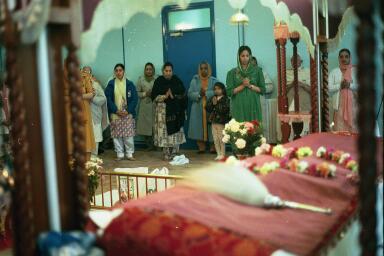 Ardas - standing for prayer, hands folded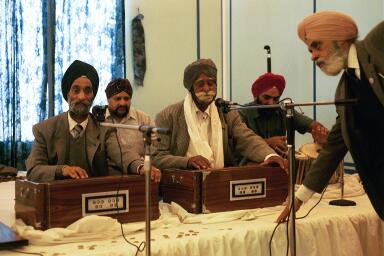 Offering to Ragi (musicians)
Lady making
chapatti in Langar
(communal kitchen)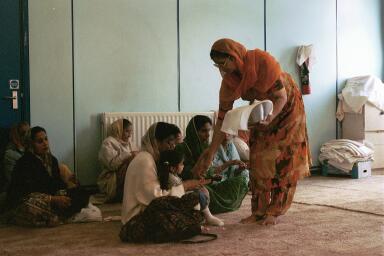 Lady distributing Prasad (blessed food) to worshippers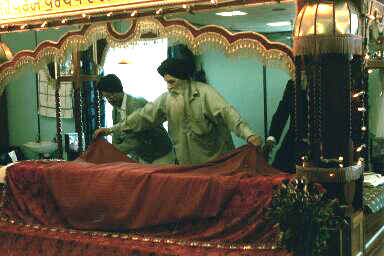 Covering throne of Guru Granth Sahib

Ramgarhias, orientating from Lord Vishwakarma, were leading followers of Guru Nanak (Bhai Lalo Ghatoray) and (6th) Guru Hargobind, (Bhai Roop Chand Khokar), and Sikh leaders in Northern India. Their Misal (confederacy) looked after the Golden Temple at Amritsar, building the Ramgarh (fort named after (4th) Guru Ram Dass), defeating the Mughals.
Maharaja Jassa Singh Ramgarhia established his kingdom, conquering Delhi in 1783. Sri Satguru Ram Singh Ji, founder of the Namdhari Panth (community), was a leader against foreign rule in 1857.
Originally a community of Artisans (Blacksmiths, etc.), Ramgarhias comprise Scientists, Lawyers, Doctors, and include the late President of India Dr. Gyani Zail Singh and His Holiness Sri Satguru Jagjit Singh Ji of the Namdhari Panth.


O God! Though Satguru Nanak, may Your Name be exalted, and May all prosper according to Your Grace.


All living beings belong to You, You are their Giver